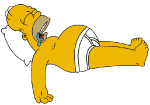 Brethren:
With the Carolina Panthers sitting Week 9 of the 2008 NFL Season out with a bye, I took advantage and headed South to return to the glorious place of Charlottesville, Virginia, for UVA's Homecoming weekend. I went to Homecoming last year and saw an underrated 'Hoos team take down a spunky UConn team, and while Homecoming is a good a weekend as ever to watch Virginia play football; this year, I couldn't get a ticket to actually go inside the stadium to watch the game.
Not being able to "get" a ticket is a little misleading, though, I suppose. In reality, I was in Charlottesville to party in FantasyLand, reunite with some good friends, and attend the various glorious tailgates that define a Saturday in Virginia. It had been far too long, with watching too many football games in New York City bars, and college football and all its pageantry is meant to be experienced in live and living color.
And it was Halloween on Friday. I had to play my part as Jimmy Hart, the Mouth of the South, as about 15 brothers of my fraternity class were attending the party as Early 90s WWF/WCW wrestlers. Mullets, face paint, outrageous facial hair, and neon were on display, and the Cap't and Mammy even made an appearance at the party. Grand times all around.
Oh, and those ever-strengthening Florida Gators exacted their fullest revenge on the dastardly Bulldawgs of Georgia in the World's Largest Cocktail party. The Gators seem quite likely to play in Atlanta for the SEC Championship, and for all the talk of the Big 12 this year, I refuse to believe any team that wins the SEC shouldn't have a shot at the national title.
Perhaps a response to the Bobcats preview, desde:

Brethren (cont'd): Sorry I missed out on the Bobcats season preview from Nacho this past week, so here are some quick thoughts as we're sitting at 1-2 after the first three games:

- Nacho hates Larry Brown; thinks he's too old-school and the wrong fit for this team. He claims he won't play the young-ins, to which I would like to respond: who on this team isn't considered a "young-in"? Our Big 4 veterans, J-Rich, Mek, RayRay, GForce, have never reached an All-Star game collectively, and are all relatively young. They certainly all seem like they could all benefit from someone who can teach the game of basketball. Worried LB won't play Jared Dudley? He's already spot-starting over a woefully out of shape Sean May. Worried he won't play Morrison? The Great Mustachio is somewhat resembling the scorer he was in college at Gonzaga – which may be just enough to get some trade value out him and try to find some frontcourt help. Who else is there that's young and not being played?

- To your point about the draft: it isn't LB making those decisions – that'd be Mr. Jordan. Yes, LB may have loudly stated he needs more talent at point guard and veered us away from a Brook Lopez with the 9th pick, but that's because he understands that, especially in today's game, having steady field generals to lead a team is the only way you can compete if you don't have a mega-star. There's a reason the same Pistons team LB turned into a Championship team hasn't made it past the Eastern Conference Finals since he left.

- Hustle, defense, and moving the ball to find open shooters is the only way this team is going to overcome its very obvious deficiencies in the front court. Mek is a fine power forward/center – but isn't and probably never will be at an elite frontcourt player. Sean May is woefully out of basketball shape. Nazr Mohammad, Ryan Hollins, and the Frenchie aren't worth much more than the 6 fouls they each represent. It's a woeful frontcourt, which means the GForce at the 4 Experiment may continue, much to all of our chagrins.

The thing is, who's better at getting players to hustle, play defense, and move the ball than Larry Brown?

Yes, this roster isn't going to wow you on paper. But if J-Rich can continue his solid play from the second-half of last season, LB finds ways to unleash the athleticism of GForce, and Ray-Ray steps it up, we have the makings of a team that can maximize its scrappy play and steal some ballgames on nights where we don't expect it. It's far from Championship Basketball, but it's the best shot we have at turning around the MJ Era.